Uncategorized
Welcome to Judo Saskatchewan
Official website of Judo Saskatchewan
Judo Saskatchewan is a member of Sask Sport and Judo Canada, which is recognized by the International Judo Federation as the governing body of Judo in Canada.



About
Mission Statement
Judo Saskatchewan leads the development of Judo in Saskatchewan to the benefit of all members.
Vision
Judo Saskatchewan aims to promote and grow the sport of Judo in Saskatchewan through programs that are safe, respectful, inclusive and enjoyable to all members.
Values
Values shape our organizational culture, underlie our management philosophy and guide our actions. They are the foundation upon which our vision, goals, and strategies are developed. Judo Saskatchewan recognizes certain values as fundamental to the achievement of its mission:
Integrity
Respect
Courage
Cooperation
Fairness
Transparency
Professionalism
Contact
Mailing Address
PO Box 1464
Warman, SK S0K 4S0
Judo Saskatchewan Board of Directors
President
T. V. Taylor

(306) 668-6879
Cell: (306) 260-5878
This email address is being protected from spambots. You need JavaScript enabled to view it.

Vice President
Jim Wiens

(306) 691-0051
Cell: (306) 690-3022
This email address is being protected from spambots. You need JavaScript enabled to view it.

Treasurer
Michelle Wiens

(306) 630-7577
This email address is being protected from spambots. You need JavaScript enabled to view it.

VP of Finance
Chad Litzenberger

(306) 955-2030
Cell: (306) 227-3866
This email address is being protected from spambots. You need JavaScript enabled to view it.

Secretary
April Korchinski

(306) 529-8508
This email address is being protected from spambots. You need JavaScript enabled to view it.

Director at Large
Warren Seib

(438) 870-8177
This email address is being protected from spambots. You need JavaScript enabled to view it.

Director at Large
Josh Wiens

(204) 680-6953


This email address is being protected from spambots. You need JavaScript enabled to view it.

Director at Large
Aiden Skaf

(306) 530-9119
This email address is being protected from spambots. You need JavaScript enabled to view it.

Athletes' Representative
Warren Seib

(438) 870-8177
This email address is being protected from spambots. You need JavaScript enabled to view it.
 Judo Saskatchewan Committee Members


Chair of Grading Committee
Dale Berglund

(306) 268-2820
This email address is being protected from spambots. You need JavaScript enabled to view it.

Chair of Kata Committee
Kimberly Bergey Kaip

(306) 527-6368
This email address is being protected from spambots. You need JavaScript enabled to view it.

Chair of Referee Committee
Robb Karaim

(306) 535-4277
This email address is being protected from spambots. You need JavaScript enabled to view it.

High Performance Committee
T. V. Taylor

(306) 668-6879
Cell: (306) 260-5878


This email address is being protected from spambots. You need JavaScript enabled to view it.

Coaching Development Committee
T. V. Taylor


(306) 668-6879
Cell: (306) 260-5878
This email address is being protected from spambots. You need JavaScript enabled to view it.

Chair of Finance Committee
Chad Litzenberger


(306) 955-2030
Cell: (306) 227-3866
This email address is being protected from spambots. You need JavaScript enabled to view it.

Chair of Sanction Committee
Jim Wiens

(306) 691-0051
Cell: (306) 690-3022
This email address is being protected from spambots. You need JavaScript enabled to view it.

High Performance Coach
Michael Horley


(306) 552-8949
This email address is being protected from spambots. You need JavaScript enabled to view it.

Registrar
Kate Schneider

(306) 530-7086
This email address is being protected from spambots. You need JavaScript enabled to view it.

Webmaster
Andrew MacLeod

(306) 290-8524
This email address is being protected from spambots. You need JavaScript enabled to view it.
Links
Judo Governing Bodies
Provincial Judo Associations
Sport Science
Judo Links
Judo Uniform Suppliers
Judo Sites
Nutrition Info
Judo Saskatchewan Virtual Kata 2022 Results
Nage No Kata (5 Sets - Senior):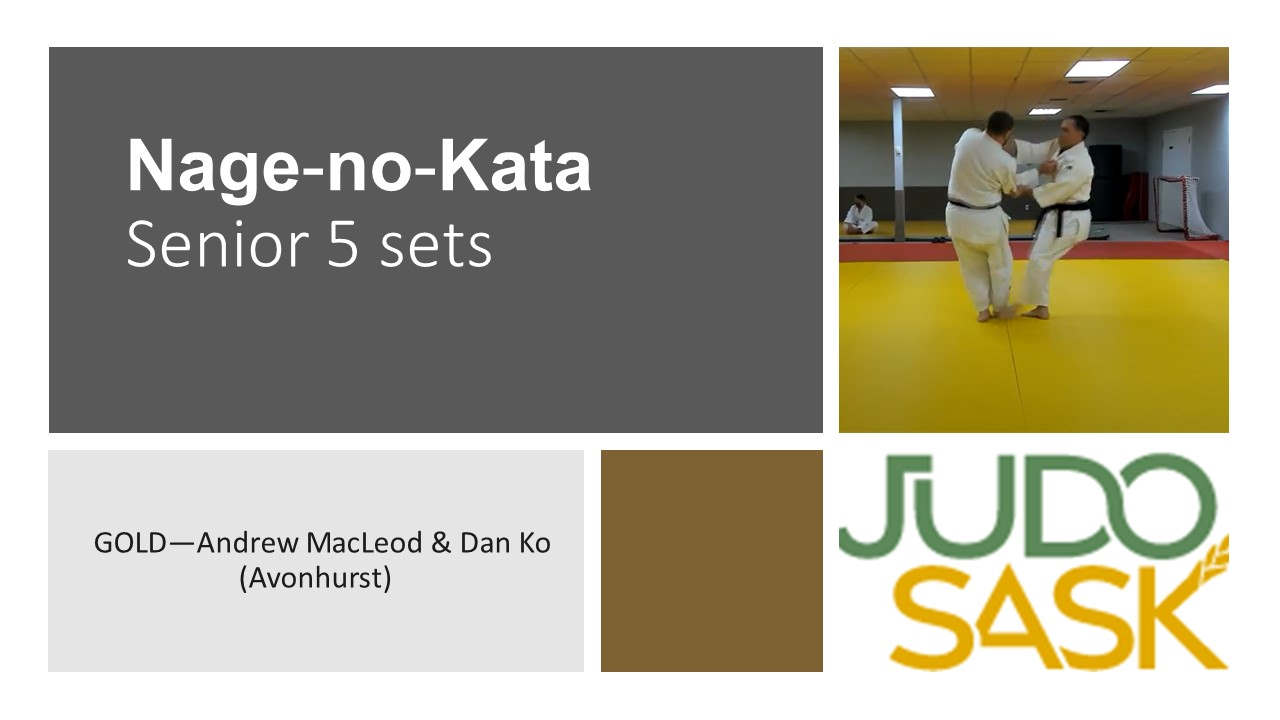 Draw Sheets

Nage No Kata (3 Sets - Senior):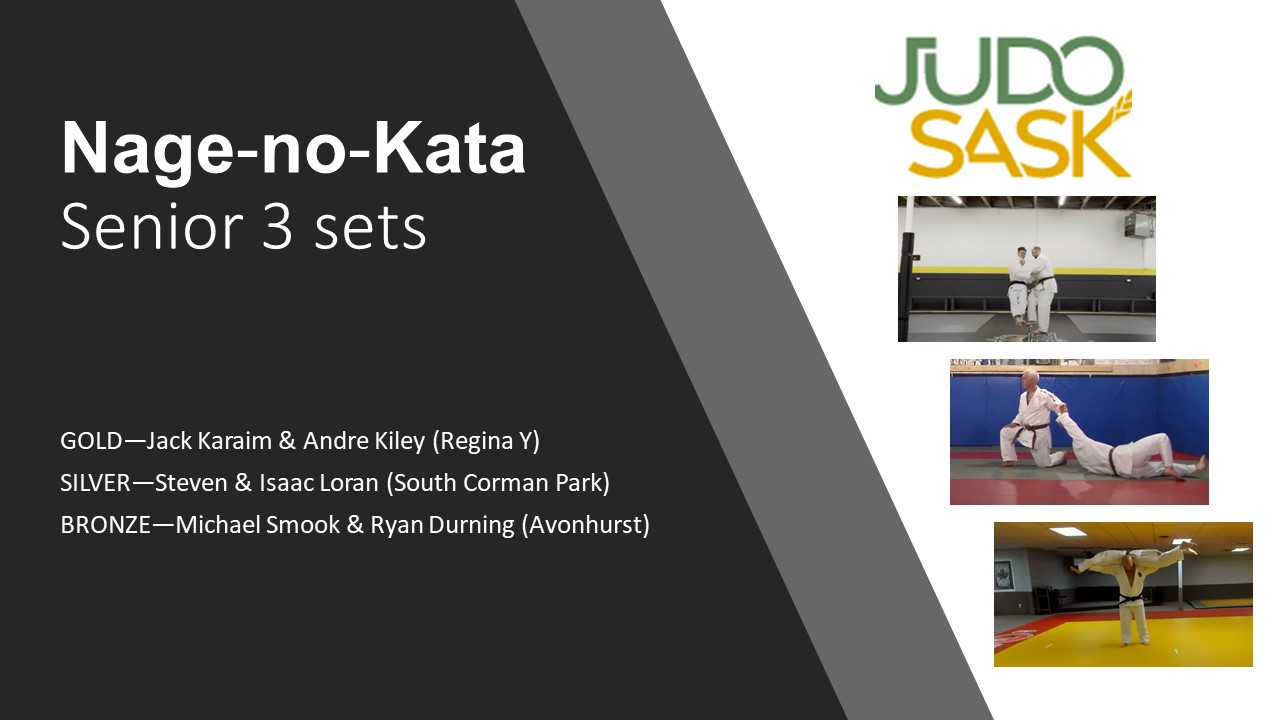 Nage No Kata (3 Sets - U16):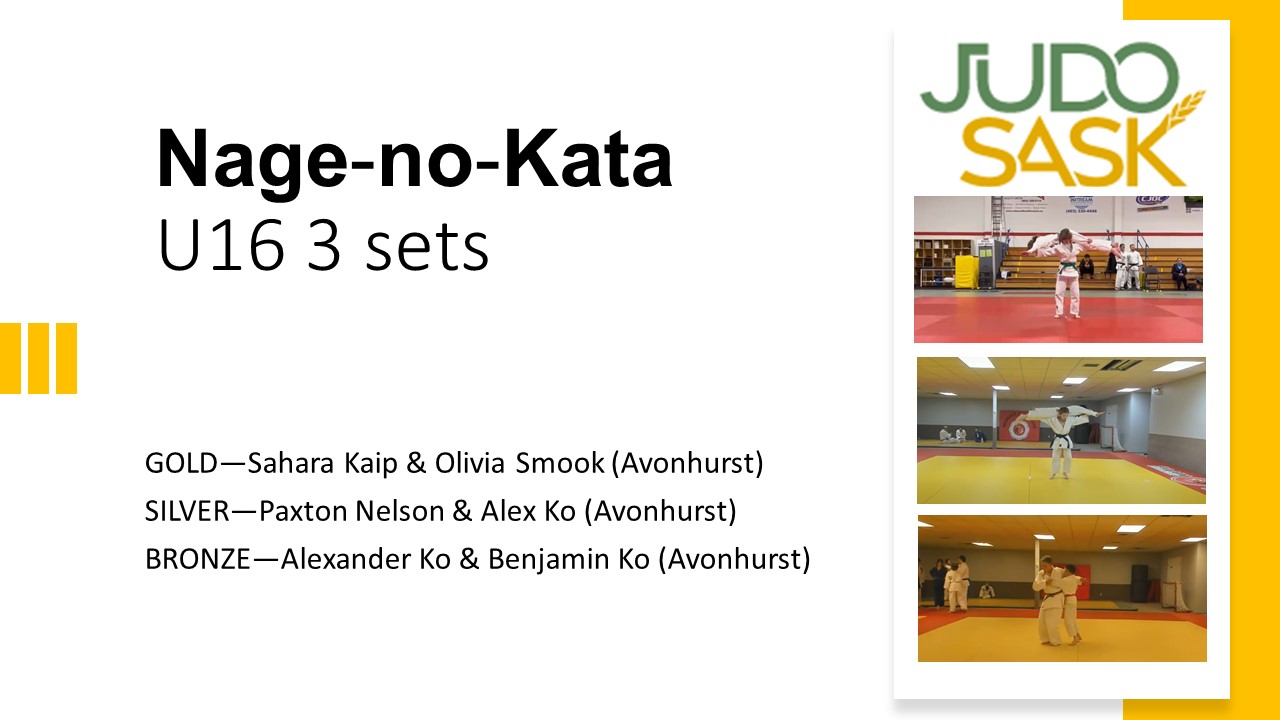 Ju No Kata: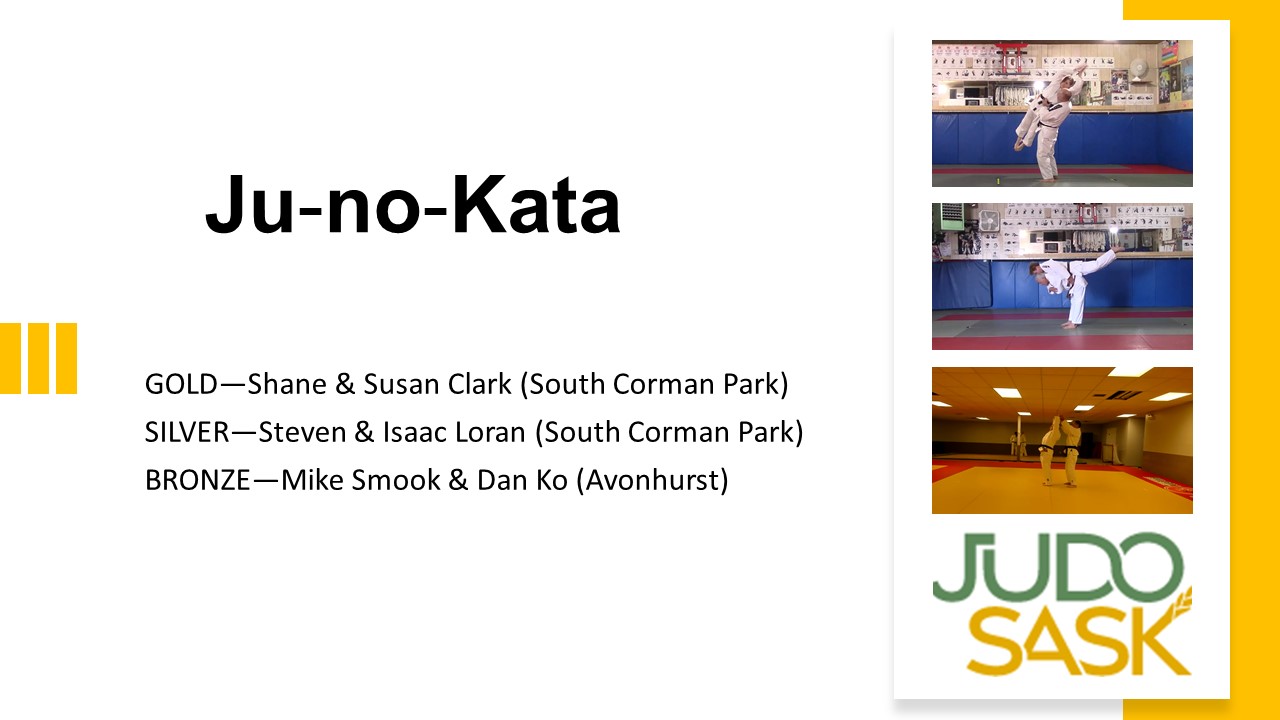 Katame No Kata: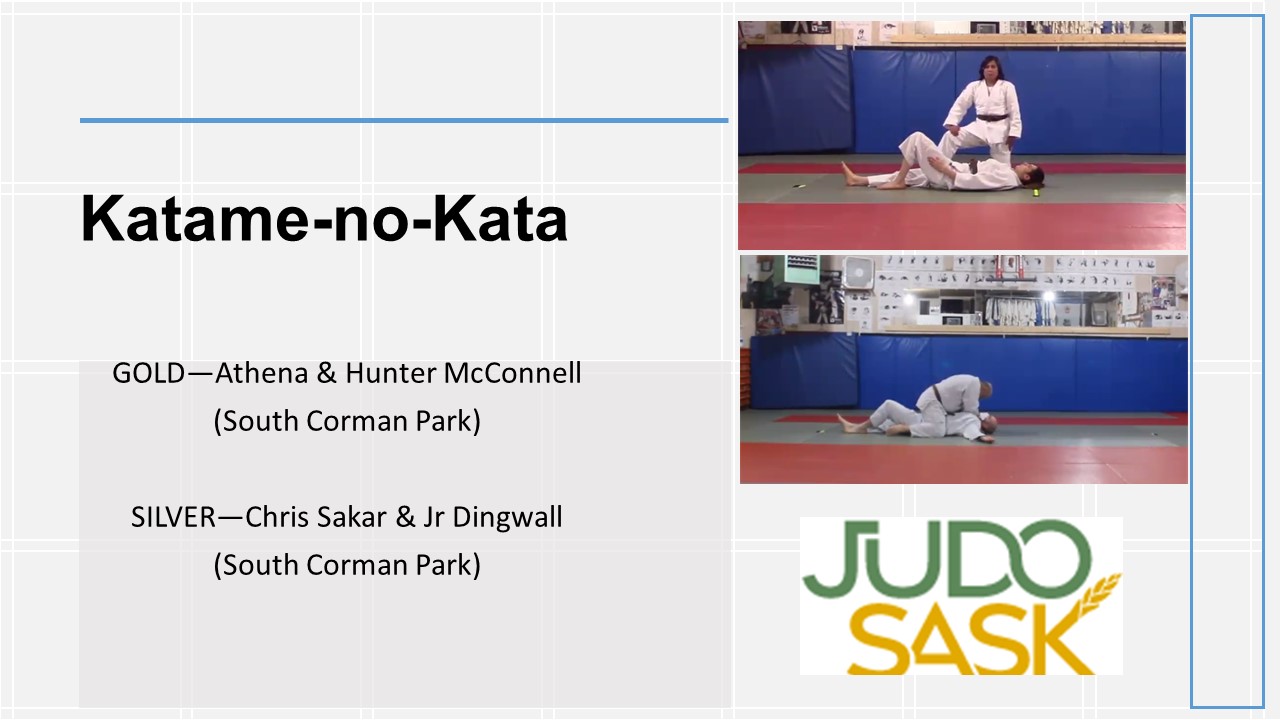 Kodomo No Kata (7 Sets):




Kodomo No Kata (7th Set):

Judo Saskatchewan Virtual Kata 2022-2023 Results
Nage No Kata (5 Sets - Senior):
---------------------------------------------------------------------------------------
Nage No Kata (3 Sets - Senior):
GOLD - DURNING, Ryan - KO, Dan - SK
SILVER - CHEVRIER, Michel - BRILLION, Alec - ON 
BRONZE - MACDONALD, Adam - DURNING, Ryan - SK 
--------------------------------------------------------------------------------------- 
Nage No Kata (3 Sets - U16):
GOLD - KO, Benjamin - KO, Alex - SK
---------------------------------------------------------------------------------------
Ju No Kata:
GOLD - LEGROS, Shane - RUSU, Dan - ON
SILVER - BIRD, Daniel - MISELLI-JACKMAN, Linda - ON
BRONZE - CHRIST, Sonio - ROBINSON, Gary - MB
---------------------------------------------------------------------------------------
Goshin Jutsu:
GOLD - ZUPANCIC, Edward - HUTCHISON, Matthew - ON
SILVER - BERGLUND, Dale - WIENS, William - SK
---------------------------------------------------------------------------------------
Katame No Kata:
GOLD - ZUPANCIC, Edward - OUDOVIKINE, Andrei - ON
SILVER - MACLEOD, Andrew - KO, Dan - SK
BRONZE - MCCONNELL, Athena - MCCONNELL, Hunter - SK
---------------------------------------------------------------------------------------
Kime No Kata:
GOLD - LEGROS, Shane - RUSU, Dan - ON
--------------------------------------------------------------------------------------- 
U8-U12 Kodomo No Kata (7th Set):
OIKAWA, Nick - OIKAWA, Isabel - BC
MACLEOD, Natsu - MARTIN, Jody - SK
ANDERSON, Linnea - AHLERS, Jessica - SK
PIETERS, Samantha - MARTIN, Veronica - SK
NIKIVIC, Thomas - ANDERSON, Ezikiel - SK

Results Sheet
---------------------------------------------------------------------------------------
U14 Kodomo No Kata (7th Set):
SMOOK, Daniel - SMOOK, Charlotte - NU
MORRIS, Kamiko - HARFORD Josie - BC
FREEMAN, Kylee - HUISMAN, Reilly - SK
MACDONALD, Elizabeth - SMITH, Emily - SK
DURNING, Jemma - SNIDER, Khloe - SK
HUISMAN, Reilly - DUNNE, Hunter - SK
NG, Ron - HALLETT, Wyatt - SK
SEVERIGHT, Elijah - PERRA, Hudson - SK

Results Sheet
---------------------------------------------------------------------------------------
U16 Kodomo No Kata (7th Set):
EMMANUELE, Francesco - EMMANUELE, Giulia - BC
LAGACÉ, Arthur - LAGACÉ, Henri - NU
KAIP, Sahara - PAYAG, Shelby - SK
KO, Ben - KO, Alex - SK
LUCAS, Preston, BERNS, Thomas - SK

Results Sheet
---------------------------------------------------------------------------------------
Kodomo No Kata (All Around Performance):




---------------------------------------------------------------------------------------
Kodomo No Kata (6th Set):
SMOOK, Daniel - SMOOK, Charlotte - NU
EMMANUELE, Giulia - MORRIS, Kamiko - BC
LAGACÉ, Arthur - LAGACÉ, Henri - NU
HARFORD Josie - ANTOSH, Megan - BC
MACDONALD, Elizabeth - SMITH, Emily - SK

Results Sheet
---------------------------------------------------------------------------------------
Kodomo No Kata (5th Set):
SMOOK, Daniel - SMOOK, Charlotte - NU
ANTOSH, Megan - EMMANUELE, Giulia - BC
MORRIS, Kamiko - HARFORD Josie - BC

Results Sheet
---------------------------------------------------------------------------------------
Kodomo No Kata (4th Set):
SMOOK, Charlotte - SMOOK, Daniel - NU
EMMANUELE, Francesco - EMMANUELE, Giulia - BC
MORRIS, Kamiko - EMMANUELE, Giulia - BC


---------------------------------------------------------------------------------------
Kodomo No Kata (3rd Set):
SMOOK, Charlotte - SMOOK, Daniel - NU
EMMANUELE, Francesco - EMMANUELE, Giulia - BC


---------------------------------------------------------------------------------------
Judo Canada Nationals 2022
Gold-Leann Huang U18-52kg
Silver-Corban Taylor U18 +90kg
Bronze-Josiah Hallet U18 +90kg
Bronze-Paxton Nelson U16-42kg
Bronze-Leann Huang U21-52kg
Bronze-Corban Taylor U21 -100kg